Son of Prometheus:
The Life & Work of Joséphin Péladan
With great joy we announce the forthcoming publication of Son of Prometheus by Sasha Chaitow. Based on her PhD thesis this ground-breaking in-depth study of the life and works of French esotericist Joséphin Péladan will precede her trilogy on Peladan's esoteric work and art to be released by Theion in the coming years.
This book is the first scholarly study of the life and work of Joséphin Péladan that succeeds in placing it in the context of the history of Western Esotericism while also providing a clear roadmap to the entirety of Péladan's initiatory teachings and philosophy of the esoteric power of art. Responding to multiple cultural shifts in fin-de-siècle French society, Péladan authored over a hundred novels and monographs in an attempt to bring about the spiritual regeneration of society through mythopoetic art underpinned by esoteric thought.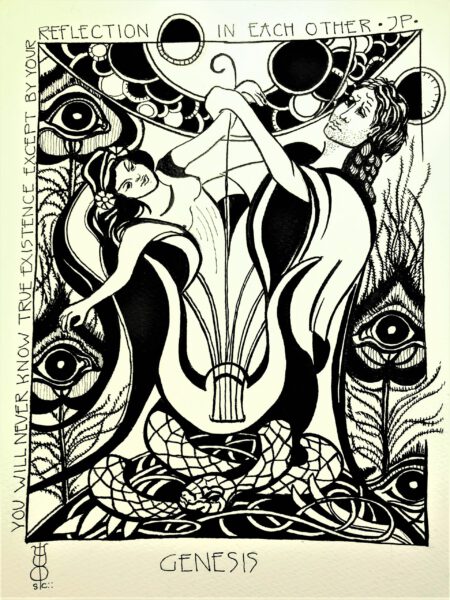 Best remembered for organising the short-lived, though influential Salons de la Rose et Croix in the 1890s, that provided a focal point for Symbolist art and sought to unite the arts into a revival of initiatory drama, Péladan's enormous oeuvre of over a hundred books and several thousand articles, slipped into oblivion and has been overlooked ever since. Previous accounts highlight his eccentricity, or isolated elements of his work, but until now, none have explored the breadth of his work in its cultural context. Sasha Chaitow undertook to do this over the course of the last 12 years, and has produced a study that offers a solid biographical introduction which corrects long-standing misperceptions, followed by accessible but robust thematic presentations of the many facets of Péladan's work, including many unpublished translated excerpts of his work. He called himself a novelist, a playwright, a philosopher, an art critic, a savant and a zelator; he was all these and more, predicting in an unpublished autobiography that one day he would be the object of detailed study. After a century of oblivion, that day has come. His work is of undoubted interest to scholars, artists, and esoteric practitioners alike. Chaitow's approach is both interdisciplinary and reader-friendly, ensuring that Péladan's vision for changing society through art and authentic living is accessible to all.
Illustrated by Chaitow herself, who undertook several artistic explorations of Péladan's work alongside her research, the book features forewords by Professors Per Faxneld and Christopher McIntosh, and is endorsed by Professor Christopher Partridge.
We expect to open pre-order for this title in late June/early July, 2022.
Praise for Son of Prometheus
Previous studies of Péladan have failed to deliver a complete picture of the man and his achievements. Most art historians have little understanding of the esoteric and are even apt to be hostile towards esoteric interpretations of an artist. Scholars of esotericism, on the other hand, are often ignorant of art history. Sasha Chaitow is uniquely qualified to write this study, having a knowledge of art history as well as the esoteric context of Péladan's work. She also has the insight that comes from being an artist herself. One of the great merits of the book is her very clear and detailed exposition of Péladan`s initiation system.
Not long ago the subject of Péladan would have been regarded as belonging to a minor side road in the history of art, esotericism or the Belle Epoque. Now, in an age when the arts are largely cut off from tradition and bereft of beauty or spiritual meaning, his message is perhaps more relevant than ever. In Sasha Chaitow he has at last found a biographer able to do him justice.
Dr Christopher McIntosh,
formerly Professor of History of Western Esotericism
at Exeter University (EXESESO)
Joséphin Péladan is one of those creative, original, and influential thinkers that deserves far more attention than he has so far received. Sasha Chaitow's groundbreaking book, which is rooted in careful scholarship and insightful analysis, fills this lacuna in studies of Western esotericism. Whether you are interested in occult trajectories within modernism, fin-de-siècle esotericism, or Orientalist discourses during the French occult revival, you will profit from reading this lucid and engaging study of a truly fascinating thinker.
Christopher Partridge,
Professor of Religious Studies
Lancaster University
Further Updates: Save the date & forthcoming releases
Save the Date: The Infernal Masque 
by Richard Gavin
Pre-orders for Richard Gavin's highly anticipated new work The Infernal Masque will open on Friday,  April 29th, 5pm CET, mark your calendar. This is the subscriber's only pre-order! Public pre-order will open on April 30. His first release with Theion, The Benighted Path, has just been released in a second edition, available here: The Benighted Path.
Forthcoming: The Cult of the Black Cube
by Arthur Moros
Due to an unceasing high demand and petitions from our readers, we have decided to put The Cult of the Black Cube back in print, in order to give more people a chance to study this important work on the Saturnian deity. The third edition (reprint) will be released as cloth hardcover only, no special/Auric ed. is planned. We expect this work back in stock around May 13, 2022.
There will be no pre-order phase for this title.
Forthcoming: The Vodou Quantum Leap
by Reginald Crosley
We are putting the finishing touches on our new edition of the infamous The Vodou Quantum Leap, a tribute to our late friend and inspiration Reginald Crosley. Expect pre-orders to open in late May 2022.